Have you ever worked on solving a sales and marketing issue with a marketing consultant?
They'll tell you marketing problems are complex and hard to fix…. Though that's not usually the truth.
I'm going to pull back the curtains on creating marketing that works and the lies that you're told daily by so called marketing professionals.
These marketing professionals usually make the issue seem complex because they are:
Wanting you to spend large sums of money for very little work.
Not wanting to take any type of responsibility for producing winning results.
I'm going to do something here I hate doing because it has nothing to do with you getting results. It's a must though because you don't know me from the guy peddling high end products down the street.
I'm consulted across the globe, traveling to 50 countries working on projects ranging from marketing conference centers to supplying goods and services into an emerging economy that was suppressed by war. I've worked for two billionaires, directly for the office of a Prime Minister as well as coordinated communications and provided support for 22 senior officials. My company has been contracted by the UN, the United States Government as well as 8 other governments to provide services.
Many times I've had to put the company and myself on the line and we were the link to success for these delegations. We didn't have the choice at failure so we had to get down to the bottom of the issue. I've made a living out of making problems simple to solve.
I'm here to tell you that many times what you see as a complex sales and marketing issue can be a simple fix if you know where to look.
Knowing where to look is what will save you months and years of frustration.
Instead of talking about how we make the issues more complex than they are…. And why marketers make them more complex…. (I could write a library on those topics).
Albert Einstein said "If you can't explain it simply, you don't understand it well enough."
I'm going to give you two of the most common "complex" issues and make them simple so you can cut through the fog.
Problems That Stay Are Not The Problem
You're a smart business owner. If you knew exactly what the problem was you'd work on it and it would go away.
So if the problem is lingering, look for the underlying cause.
A problem I hear about all the time is I don't have enough qualified leads coming in the funnel.
So they follow the advice of most marketers and content out there.
The business owner goes out and starts buying Facebook Traffic, Google Traffic, Linkedin Traffic, Display traffic and whatever other strategies fit his business.
90% of the time this just blows a hole in his wallet.
Why? Because traffic isn't the issue. The sales message is the issue.
The problem gets worse because most marketers don't know how to address the core problem so they blame it on market conditions, poor sales process and anything else that keeps the owner searching for more (and spending more dollars). There's also truth that some people in the industry won't identify this because they want their clients to continue coming back to buy more.
Truth is, they need feedback from a professional or to talk with potential clients about what part of the sales message is confusing. I've never seen an effective sales message that wouldn't work across multiple marketing channels.
Deal with the source of the issue, not make it worse.
Low Sales Problem Gone Bad
Another common issue that is very easy to fix is low sales conversions with your team.
I've seen six figures spent on sales training to help solve the "sales issue" without so much as an uptick in closing percentages. When sales don't go up, the "sales professional" is forced to say that the sales team is poor, the market isn't hot, the people aren't dedicated enough, etc.
The sales issue becomes more complex with the trainer instead of easier to solve.
The prospect doesn't have absolute clarity on the value he is getting for his money.
This lack of clarity has 2 causes, both easily fixable:
The lead qualification process is too broad. The prospect isn't qualified over time with clarity providing messages. The solution is to tighten the top of the funnel qualification process as well as the mid-funnel behavioral identification.
The sales strategy attempts to hard sell the prospect which is offensive on a conscious or subconscious level. If someone is hard selling, it's because the marketing message is not complete. There is NO reason to ever hard sell someone in the professional world.
Solving a sales and marketing problem is no more complex than 8th grade math for someone who understands how to clearly communicate value. For someone who is unclear, it seems like finding the answers of the universe.
Additional Resources For Reading:
Do You Make These Mistakes In Sales And Marketing?
Turn Your Business Around In A Weekend 
If you would like help making yours sales and marketing problems go away, then I invite you to fill out an application to talk with me or one of my associates.
We can help these problems go away through coaching or done for you marketing services, depending on what's appropriate.
Most importantly, remember that most problems are more simple than they first appear.
"Just one idea can change your life," said legendary motivator Earl Nightingale.
And that idea changed my life!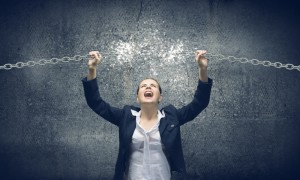 I'll never forget hearing those words back when I was cleaning buildings as a way to make it by.  Twenty-five, broke and looking for a way out while I was talking to my mentor.
As we spoke, it dawned on me that despite all my years of school and business, no one had taught me how simple success can really be.
I knew true business transformation had happened when I was on a first class flight to Vienna, Austria for my consulting contract in the Middle East.
What I changed is the quickest way I know how to turn around a business: Change my offer. I didn't go make something up.  I knew that was unethical.  What I did is learn how to clearly articulate the value I offered to prospective clients.
SIMPLE….  Profound…  Life Changing…
If you're struggling to get front-end sales, referrals or have a poor closing rate, chances are the issue stems from you produce or service offering. Good news, you can fix it fairly quickly over a weekend if you focus. Fixing my offer increased my income from $25,000 to $170,000 in a 60-day period while working 60% less.
What Creates Massive Impact
The key for you getting turn-around results in your business is to understand exactly what problems you can solve and know what issues the marketplace is having. Maybe you've heard that before, though most of the business problems stem from not going deep enough into the prospects psychology and what they are struggling with.
Thankfully, we can do this over a weekend. We are going into the 80/20 of writing an offer.  80% of the effectiveness of your offer will be from the research you do. You can do quite a bit of research with mostly free tools.
One tool I recommend you having is SEMrush which is about $79.00 a month.  It will be well worth the price as you write your offer. The idea of research is to understand what messages are activating the market and what people are buying.
The easiest way to do this?
Listen to them!
The web is an incredible listening tool if used properly.  People are telling you directly in their rants what their issues are. Are you listening? Chances are, your competitors aren't so if you start using this weapon you can turn around your business in no time.
What you need to do is set up a listening strategy across Youtube, Linkedin, Facebook, Twitter as using other competitor resources. The key to listening is to throw out 95% of what is being said.  The weak offer focuses of people who don't take a distinct stand in the market are not where the gold is.
The gold lies in the polarized 5% of the market who are going to fight viciously for what they stand for and will give you clues to what the most important buying behavior is. The reason listening to these 5% is they will be the most ready to buy a product or service.
Notice how we haven't talked at all about how you can serve the market yet?
Because it doesn't matter until we know what they need. Once you have charted out the "polarizing" 5% of the market you wish to write to, next you want to find the opposite 5%. An example would be if you were writing about a staunch republicans stance on abortion, you would want to compare that with a far left liberal democrats stance as well. Comparing these two views will give you all the ammunition you need to come up with your offer. Whatever side you are going to represent, you also need to be able to say what you DON'T represent.
If you can bring out both polarizing emotions, you will be able to rally support for your offer. Once you're done with the research, the offer should pretty much write itself and you won't be guessing if your offer will work.
If you're intimidated by this process or would like help on making the process work, then check out our Offer Mastery.  The Offer Mastery will walk you through exactly how to do the research as well as help you construct a high converting offer for your business.
Further Reading
Do You Make These Mistakes In Sales And Marketing?
Confessions Of An International Marketing Consultant
Are You The Sucker At The Sales And Marketing Table?